January 14, 2007 Fall Creek
The announcement
This Sunday we leave here at 9 and head to Felton for a hike at Fall Creek. There are two routes we can take, one is about a 10 mile, 4-hour hike with a lot of climbing, the other is about half that with a lot less climbing. We'll decide on which to take once we get there, depending on who shows up, the weather, how we all feel, etc. But plan on being fitted for the long hike, which means bring water and food.
No sneakers are allowed. You need proper hiking shoes to hike Fall Creek. Some of the trail sections are narrow and slick.
The trail is all under cover, and half (for the big hike) or pretty much all (for the short hike) is along a stream, which means that it might be very cool or cold, so dress in layers.
This is a good hike for bringing your camera along. As far as I can tell, it's called Fall Creek because of the large number of redwoods that have fallen across the trails and the creek. Very picturesque. There is also the abandoned lime kiln and the barrel mill area which begs for more pictures.
We'll begin the hike around 10. The parking lot is very limited, however, so car pooling is good. There are no park fees. There are no toilet facilities at the trail head, so you either need to use the designated bushes, or hit something at one of the local gas stations. Or maybe we'll all just go over Donna's house.
Meal, of course, after the hike.
The hike
We had a cold, cold hike last Sunday. They women that did the longer hike probably thought they were pulling a fast one on me at the end with their dancing, but I've done the long hike—and you don't dance at the end.

The obligatory hike at the first bridge.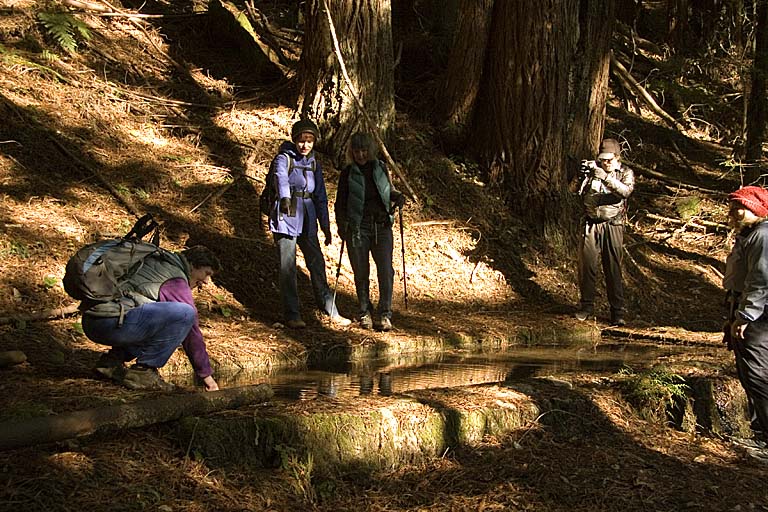 Donna brought us to a new spot, a horse trough containing goldfish.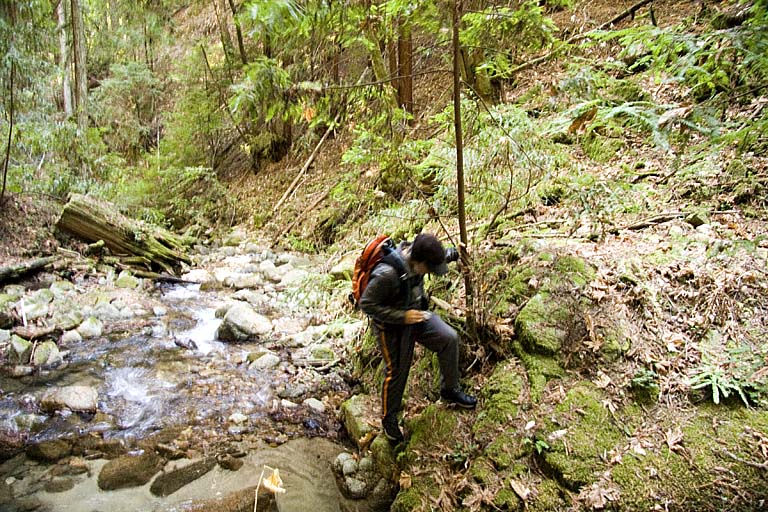 Tom strikes out to get some special pictures amid all the fallen redwoods.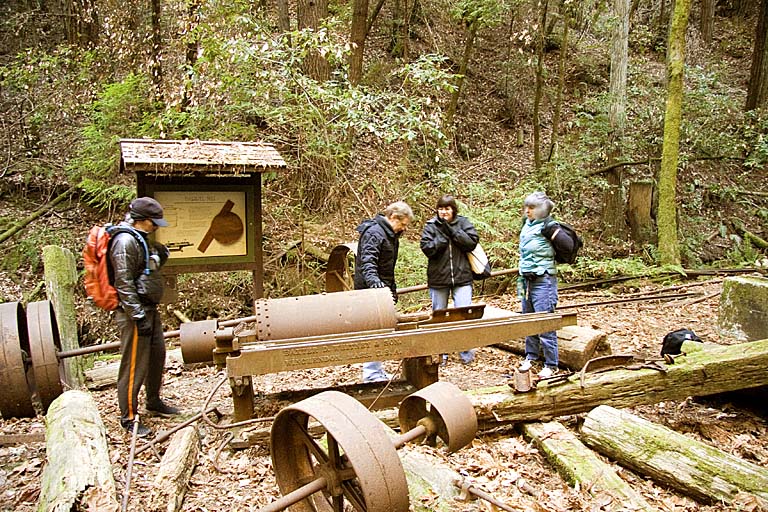 Half of us went off to the barrel mill, the other half are way up on top of the mountain. All of us are freezing valuable appendages.