August 20, 2005 Russian Ridge
The announcement
The hike will start on Saturday, August 20 at 5:30 pm and will last until about 10:00 pm. We'll meet up on Skyline Boulevard (directions later) and hike out as the sun sets. The docents will give us lots of information about history, biology, etc. along the way. They are very informative and entertaining. At the far point, we'll sit and have supper while the sun sets. Then we'll turn on our flashlights and hike back in the dark. We may get astronomical information, information about satellites, and we may participate in some interesting small activities along the way as well.
You'll need to dress for temperature extremes. It may be very hot to start. It may get freakin cold to end.
Let me elaborate on "freakin cold" because we've actually had someone show up in shorts and a tee shirt saying he didn't know what I meant by "freakin cold".
I mean FREAKIN COLD.
Cold as in things turn blue and fall off your body. Cold as in icicles forming on your nose hair. Cold as in "you will get cold so
don't come dressed in shorts, you big dummy". Wear layers of clothing that you can add or remove as needed. Check the weather report before you come, and plan on it being both a bit hotter and a lot colder where we'll be. There are ravines and low spots where very cold air can settle at night.
But, as with all of our hikes, be prepared for the unexpected. That means for the unplanned. That means adventures. That means you'd better not come expecting things to go as described or even as hoped. We've had hikes where we've ended up in a whole other town than we've planned. Where mountain lions have eyed us hungrily. Where snakes have measured us for people-skinned shoes. Where people have tried cutting down trees with their forehead. The unexpected is not avoided in our group&mdasy;we celebrate it. Plan on it.
From the parking lot, we hike up to the first intersection and turn left heading for the Ancient Oaks Trail. We'll follow that down to the Mindego Trail. From there we go to the Alder Springs Trail and then up the Hawk Trail. Near the intersection with the Bay Area Ridge Trail is a redwood deck where we will stop for dinner. Following sunset, we head back along the Ridge Trail, stopping at Borel Hill to catch the moon rise. Return to the lot at 10:00. Total distance is 5 miles.
There won't be any significant climbing, just three approximate 200-foot rises at the beginning, along the Hawk Trail and along the Ridge Trail to get to Borel Hill. The route is also mostly in grassland, especially after dinner, so if people are comfortable, they can walk most of it with their flashlights off. And it can get very windy on the ridge top.
The hike
The start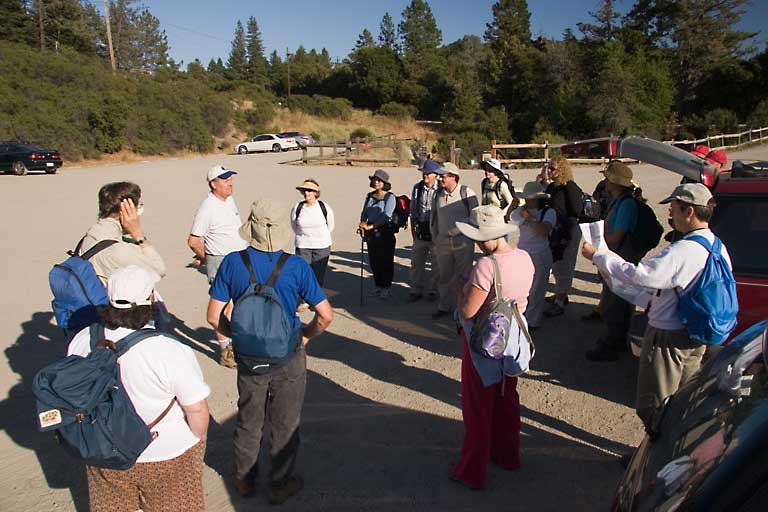 Waiting for sundown.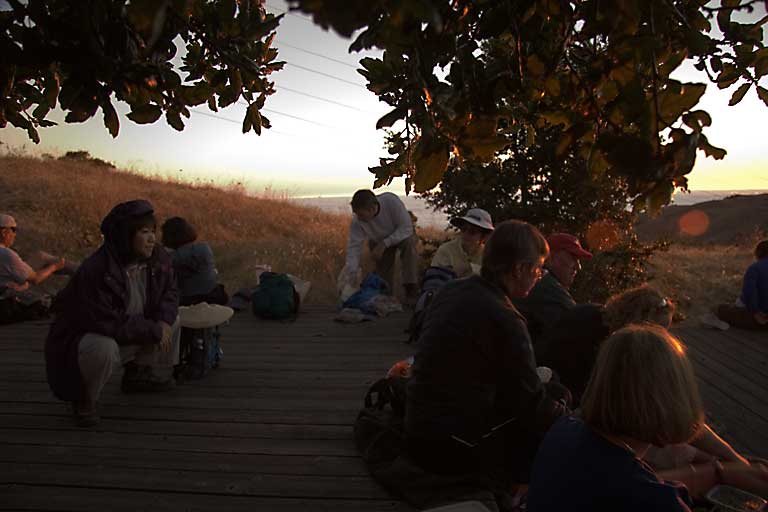 What we're waiting for.