April 29, 2006 Joseph D Grant
The announcement
Kathy and I will be camping this Friday and Saturday, and you're invited to join us in a hike, do an alternate easy hike, and/or join us for a picnic. If you'd like to hike, show up at our campsite at 9 am on Saturday. Our current plan is to do one of the harder hikes at Grant, coming back to the campground around 1, or 2 at the latest. You can also show up around 9 and we'll point you on one of the several easier trails as well, if you don't want to do the big grunt hike. You can do an almost flat hike near the campground, or maybe an upper-end easy hike to see the wildflowers.
The hike
I just love it when all of the right elements of a hike and adventure come together. Kathy and I had an "interesting" time camping at Grant Ranch. And four of us did a hard hike in the fog and through the clouds at Grant, giving the place a special mood that we almost never see. The wildflowers still look like they're a month away from peaking, so we may come back for this in a month on my birthday. Then seven of us had a great picnic and a birthday celebration for Kathy and one of the few picnics we have during the year.
We had turkeys overrunning the camp. Quail were harassing the jack rabbits. We had a scary trail snake. A dead horse. Oh, we almost got to see a horse endurance race, but it was cancelled. Lots of hawks and vultures. Squirrels enough to make a coat. Lizards big enough to name Eddy (bad pun, if you know who I mean). We had a close encounter with three deer. We had animal calling contests: Kathy won the turkey call, Joanne the quail call. I forgot about the quail stampeded, with Larry the quail going in the wrong direction and the stampede having to go and fetch him.
But, if you want to hear all about the 911 call, the problem with the camping neighbors, or what the ranger had to say to us, you'll just have to come on a hike.

After a long, hard hike in the fog, it was back to the campground, where Kathy demonstrates her talents at turkey calling.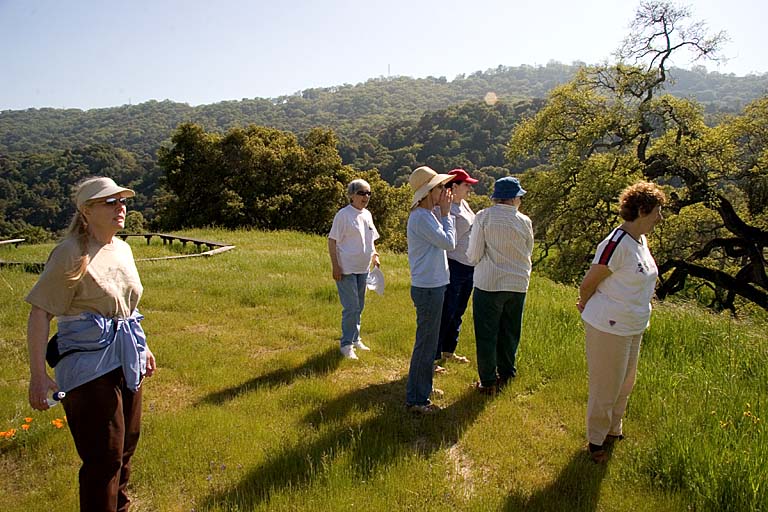 A picnic is always one of the best ways to end a hike. You may get a hint from Joanne, however, just how chilly it was.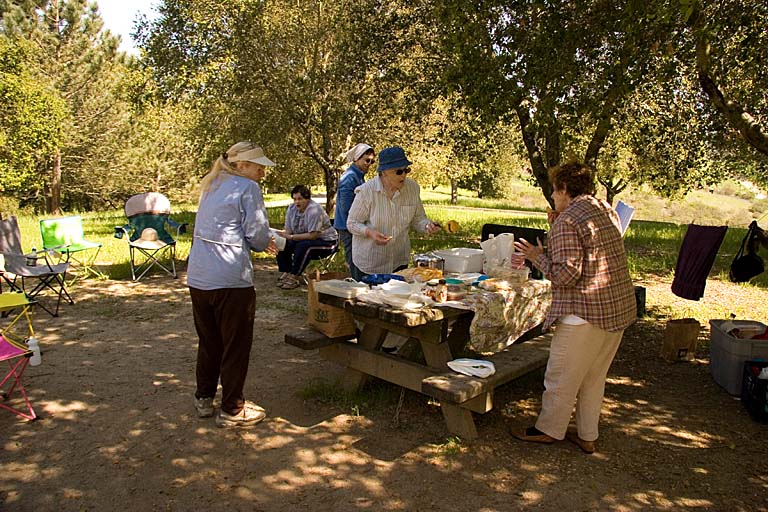 A long, hard hike, a picnic, and Joanne show the way to spend the rest of the afternoon.