Wimble Scale: Difficult, Length: 8.1 miles, Climb: 1100 feet, Time: 4 hours

The announcement
This Sunday, we'll do something about half that hike — let's call it a 0.5 Kristen hike. We're going to hike Windy Hill. I'll call this a hard hike just because it's about 8 miles, but, really, it's a moderate hike. Especially at the slower pace we'll be taking it. A bit over half of it is under cover, and the exposed part is a quick downhill.
There is a picnic table at the top, a bit over half way through. We'll have a lunch there.
We leave here at 9 and start the hike about 9:30. Plan on about 4 hours or a bit more.
The hike
Sinuous Snake Snaps at Sleepy Stompers, Delivered by Daring Des Moines Denizen
There were minor injuries along the way of last week's hikes. I got a twinge of leg pain — much less than the searing leg cramps the next-to-last time I did this hike, just before being diagnosed with diabetes. Kathy got a mysterious big bruise on her thumb and a head- splitting headache near the end. But no one got their knickers in a twist, and we didn't break any teenage daughters this year like last year.
As we strode along the last few hundred yards of the trail, a sneaky snake poked his head out of a tunnel in the middle of the trail, right between Dave's legs. It picked the wrong boy to try to intimidate. Dave gave his famous "Des Moines Evil Eye" to the snake and smoking, desiccated remains disappeared back down the hole. It was fortunate that Dave was at the back of the pack when we had a close encounter by a doe and fawn early in the hike.
On the way up, we mounted an expedition to discover a microscopic geocache which, thanks to Paul's persistence, we discovered just as we were all giving up.
I managed to find a field of ripe wild strawberries, and munched on back raspberries just before lunch. It makes me think that we need to get to Purissima to see if the berries are ripening early.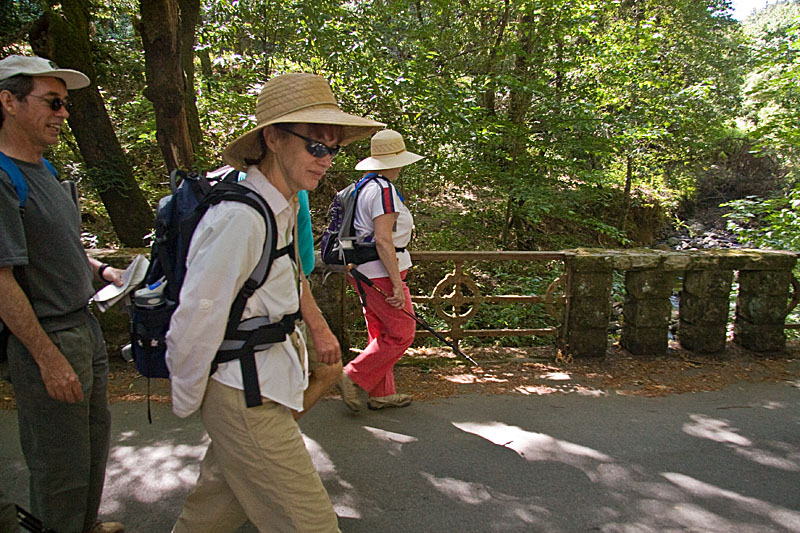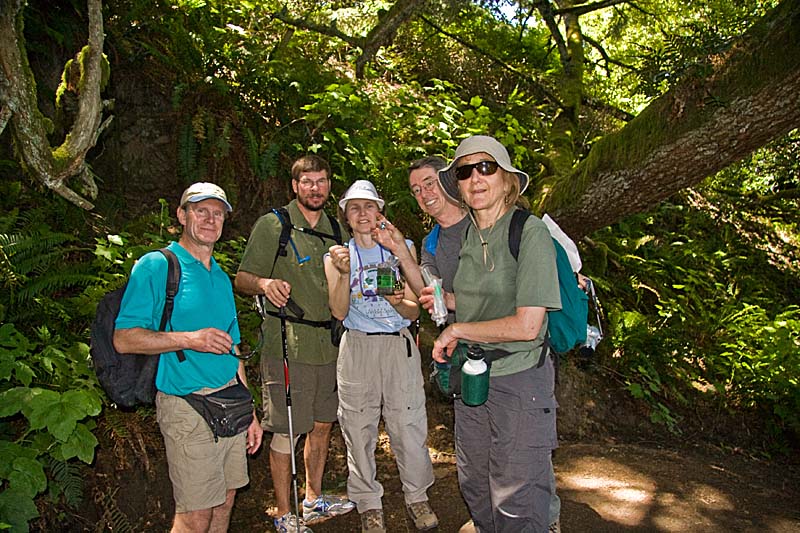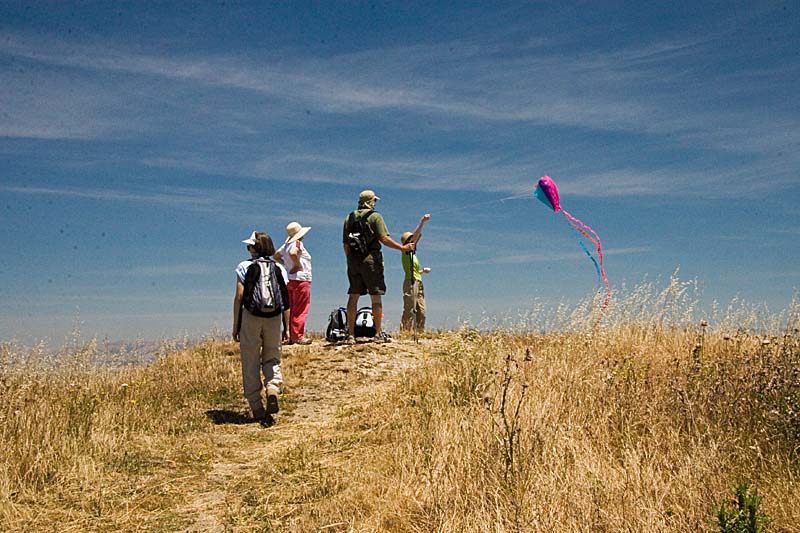 Here is Ron's track map. You can find all of Ron's pictures for the hike at: http://picasaweb.google.com/thwarte/WindyHillJun08