The announcement
We think we know what we're doing on this Saturday's hike. We're doing an 8 mile, 1100 foot climb hard hike. One of our annual traditions. It's out at Henry Coe, the entrance that goes by the Anderson Reservoir. Expect lots of wildlife and flowers. Look at the website to see how it was in years past. We hope we're past the season of slimy trail worms, and not into the season of sun strokes and wood ticks.
The trail is mostly covered, and it's usually warm where it isn't covered. We leave here a 8, hoping to get back in town early enough to go to a book signing by Berke Breathed of Bloom County fame. The hike should start around 9:15 or 9:30 and take 4 or 5 hours. We'll eat snacks and lunch on the trail. Bring water as appropriate for such a long and potentially hot hike. I have noticed a good population of ticks on some of my other excursions recently, so you may want to dress for that as well (light coloring, cover your skin). Cooling scarves have been popular in past years.
The hike
A complete set of pictures can be found at http://www.flickr.com/photos/7941547@N06/sets/72157600209242300/
Our annual mother's day hike at Henry Coe just ticked us off. Which, of course, means we got covered in ticks. Tom "I've hiked all of Henry Coe" Mangan says that last year's tick problem was twice as bad as this year's. Which would make it outstanding.
I had one tick on me that lunched for over an hour before I finally realized what the pain was. There were 3 more found by time we stopped for lunch. And which eating lunch, one tick just dropped out of the breeze on me. One more was found when we got back to headquarters. One one more was doing the back stroke in the shower drain water at home.
If the suckers were any bit bigger, we could have had them for lunch.
Otherwise, it was an absolutely perfect day for hiking Coe. The temperature was cool enough that people started out with jackets, and there was just the right breeze throughout. The flowers were significantly less than last year. We were the first non-park people to sit on a new bench at the park.
We know this because we were there when the park people removed the "keep off" sign. We even talked about FOMFOK sponsoring a bench in a the park. We're thinking about taking up a collection for a bench. It might take a couple of years to come up with the money, however.
Dave, Peggy and Kathy ford the Mighty Fish Creek.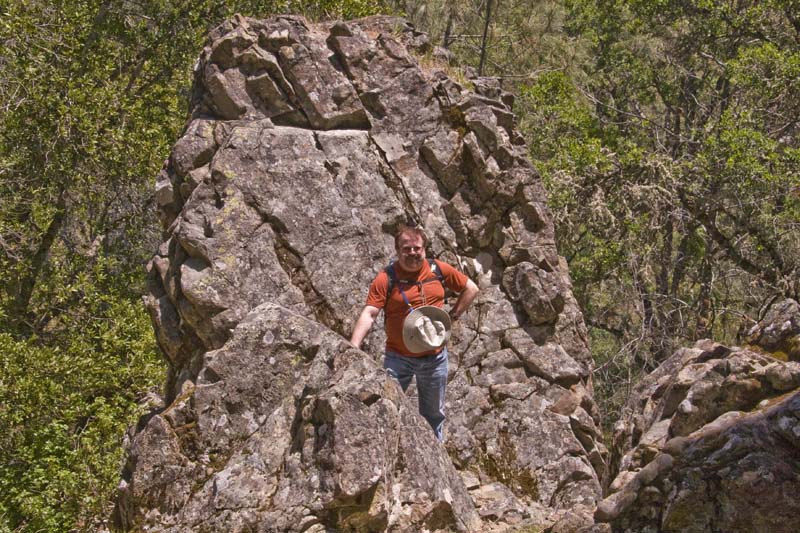 Mike climbs the Mighty Mountain.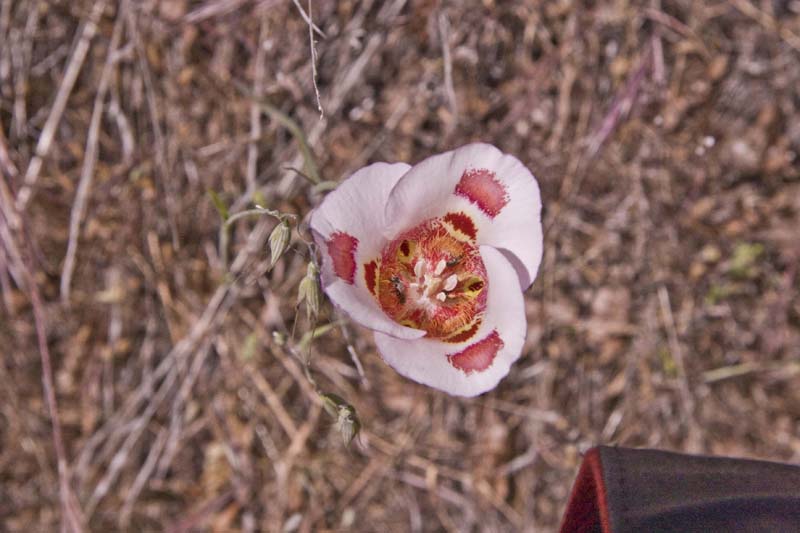 Purdy flower.