The announcement
We had lots of ideas for this weekend's hike, but I decided we'll do Peter's Creek Loop. It starts at the top of Skyline, about 2.5 miles north of where Highway 9 and Skyline meet. We'll park just south of where Ward Road meets Highway 9. This is about a 3 hour moderate hike about half through through covered, cool redwood forests and half out on the exposed ridge line. Expect lots of wildflowers, but not big showy displays.
We'll be wanting details of Peggy's latest viral experiments, of Joanne's trail finding skills and of Tom's fan club, if he has time to join us any more with the pressures of his weekly publications.
The hike
A complete set of pictures can be found http://www.flickr.com/photos/7941547@N06/sets/72157600206207244/
Last week's hike was totally new and unplanned. We intended to do the Peter's Creek loop, one of my favorites. When we got there, we started out by just looking at a few yards of trail off to the side that we almost never look at because it doesn't go anywhere and doesn't have any particularly good view. But that few yards of trail has turned into almost 3 miles of trail that wasn't there a few of years ago. So that's where we went.
It was pretty enough. And there was a good, cool breeze to make things even better. Once we got to the junction of Highway 9 and 35, we were met by hundreds of runners for a benefit. Once we crossed the road, we were met by hundreds of motorcyclists lead by some police motorcyclists. And once we got a couple of miles further down the trail to the road again, we were met by hundreds of scooterists, if that's the word I want, mostly driving Vespas. Along the trail, we were met by hundreds of bicyclists. Well, ok, maybe something less than hundreds of bicyclists. More than handful, though. One even saved us from an embarrassing long descent down the wrong trail.
It's a hike worth doing again this summer. Next time we'll do it in the clockwise direction, just to be different. It's totally covered, and pretty flat. You would have loved it if you had come. You never know what we'll do on any hike.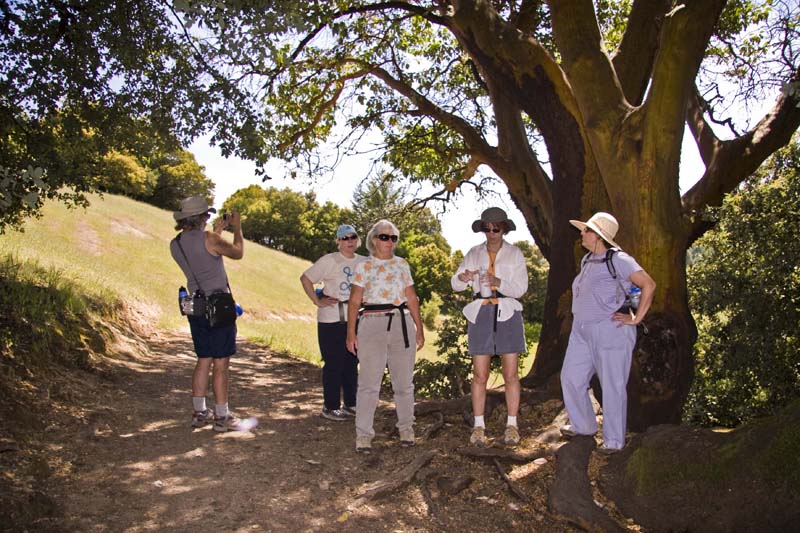 It started out as an innocent discussion of ethnic music.
Suddenly, Kathy demonstrates Irish stepdancing while telling the history of bluegrass music.