November 6, 2005 Grant Ranch
The announcement

This Sunday we'll go back to the basic slog. A hard hike at Grant Ranch. I suspect we'll start at Grant Lake and climb to the ridge line. From there, we might take the hard way down, past the archeological discovery of the pig skull and see if we can't excavate a bit more of the Piggus Gigantus that now adorns our atrium.
We leave here at 9 and begin the hike at about 10. Plan on 3.5 to 4.5 hours of hiking. About a quarter is under cover, and the rest is exposed. We may have to fend off the mountain lion we saw the last time we were there. At the least, expect to have to stare down a few head of cattle that may be adding a few surprises on the trail. We'll eat lunch on the trail. Expect hot and cold, dry and wet weather, and probably portions with a lot of wind. This is an upper end moderate to middle end hard hike, depending on which trails we take. As usual, we'll adjust the hike for whomever shows up.
The hike
Let's see, there were 2 herds of turkeys and a flock of pigs along with the usual hawks and buzzards. Oh, and a wood rat. Oh, and GIANT APES for those who took the canal trail at the end.
Grant Ranch was a hoot. We took one of the longer routes, about 10 miles and 1500 feet of climb, but not the longest or hardest route there. Kathy couldn't go — she was getting her eyes fixed in urgent care. Want to know why? Well, come on this week's hike to find out.
Up at the ridgeline, we see one of the many bikers that were on the trail today.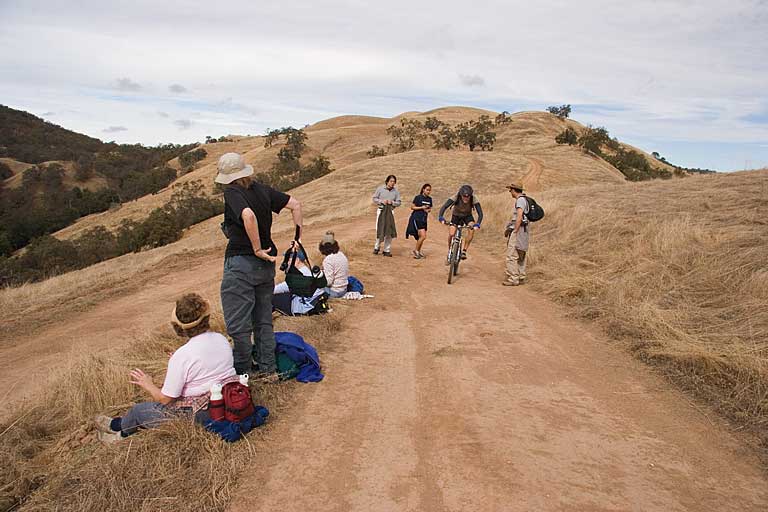 Just beyond this pond is where we saw the giant apes.