November 5, 2006 Henry Coe
The announcement
This Sunday we're going to do another potentially hard hike. I say potentially because I've never been there and have no idea what we'll find there. And, of course, we might just change our mind when everyone shows up and go to the new park near Callero, instead. But the plan is to leave here at 9 and go to the southern entrance of Henry Coe and throw caution to the wind.
Until we get hungry. Then we'll re-gather caution, put it back in our knapsacks, and head over to the Black Bear diner in Gilroy.
The hike
We all missed Tom to lead us in this new area. I'm sure glad we chose to do this four hour hike in an anti-clockwise direction, though. Trying to do this clockwise would be brutal, and we came across a hiker that confirmed that. As she said, "There had better be something freaking impressive to look at up at the top of this". Well, we did see one purple flower. And we treked through a lot of tar weed. And Gwyn brought home enough seeds on her to grow a whole section (640 acres) of native plants.
The group that did a bit longer and higher option came across several deer pronking up the hillside. I hope that was worth the price of admission for taking the harder route.
For the 8 of us who tacked Henry Coe on Sunday, here is a topo profile that is close to the trail we took, not including the extra bit taken by 3 hikers. It was 6.23 miles with 1600 feet of climb. The three who took the longer, upper trail, went a total of 7.13 miles with 1750 feet of gain. Or you can believe the map which says the shorter hike was 6.3 miles and 1520 feet of gain. And I tend to think the longer hike was more like 250 feet extra climb. None of this matters for Kristen, though, who could have probably done this at a dead run after having hiked 16 miles with 4,000 feet of gain at a fast pace just the day before.
My figures are a little bit off as the topo map I'm using doesn't accurately show the Lyman Wilson trail, and doesn't show the Middle Steer or Bowl trails at all, so I had to meticulously try to transfer park map information to my mapping program.
Our reward for all of this was to have a pretty good meal and some really great conversation at the Black Bear restaurant in Gilroy after the hike. If our political leaders could only come along with us at these events, they'd quickly realize that we know a better solution to most of the country's problems. And we know how to replace the motor in a dryer, which may be more valuable knowledge.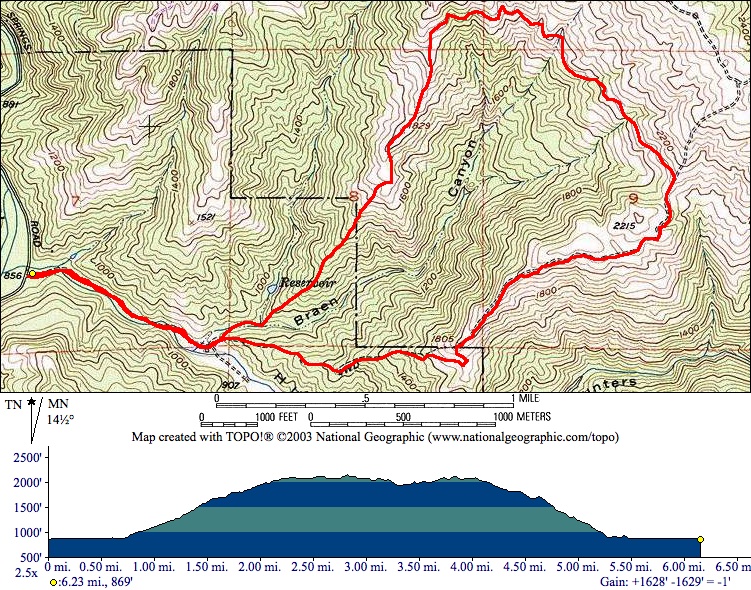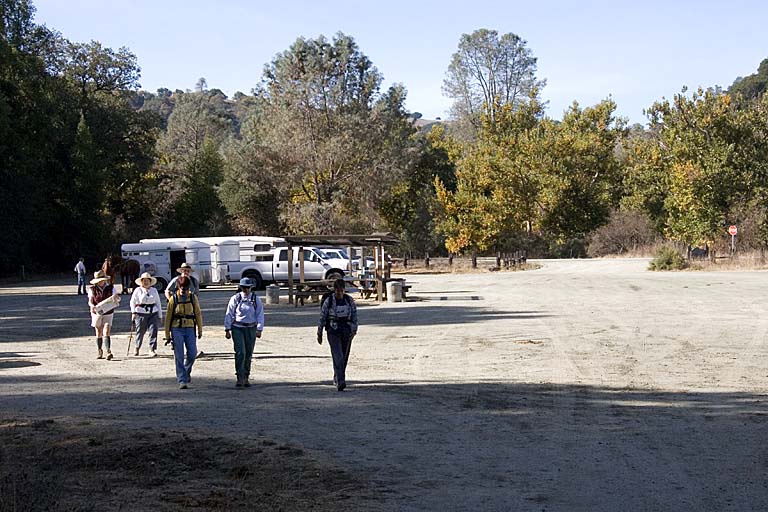 Leaving the parking lot.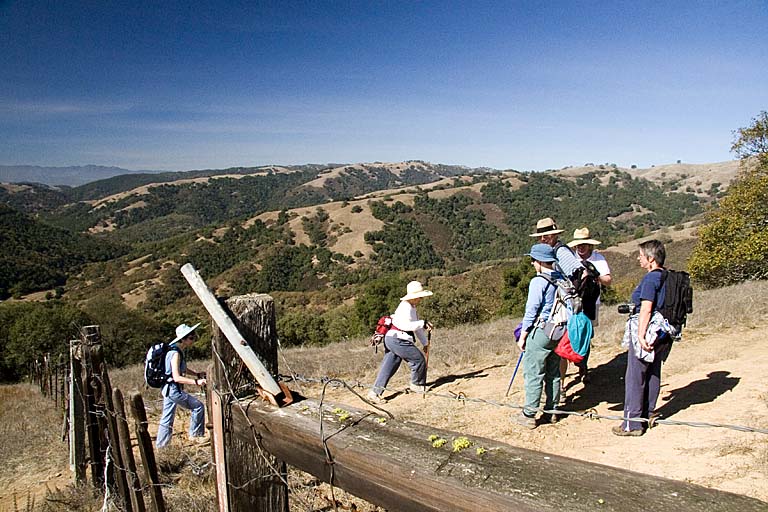 Partway up the spine.

As we crawled across the face of the mountain, we came across this, which was apparently popular with pigs (from the smell).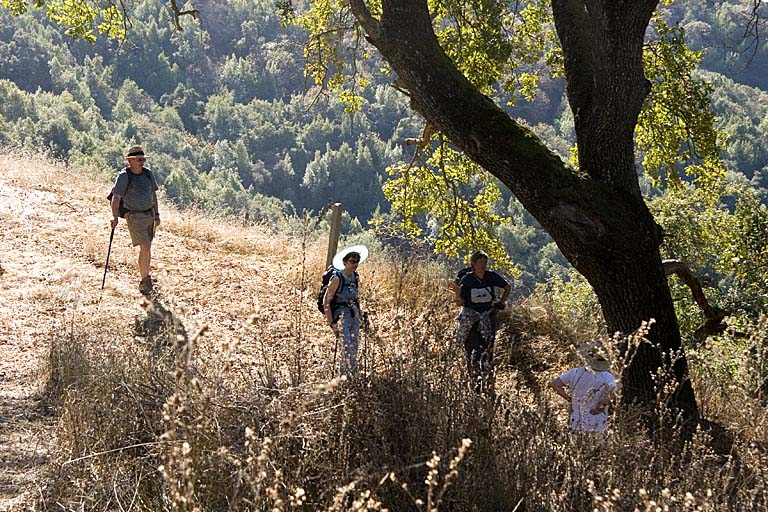 Nearing the junction where we'll wait for the other group.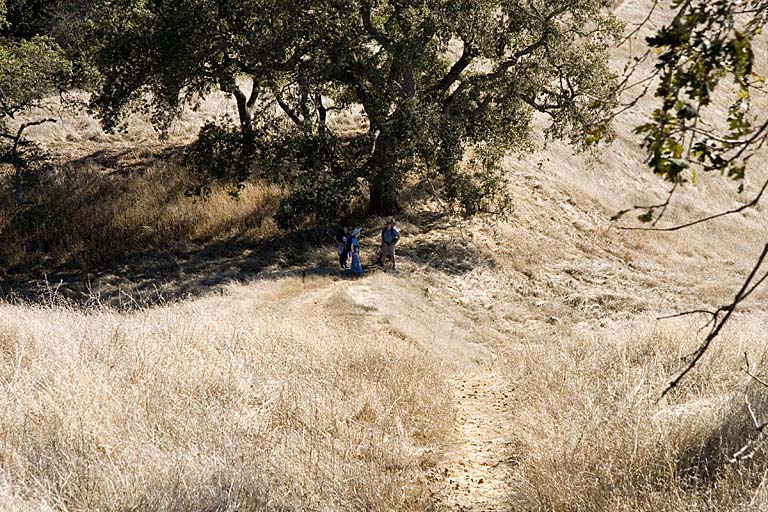 This might give a hint as the steepness of the trail.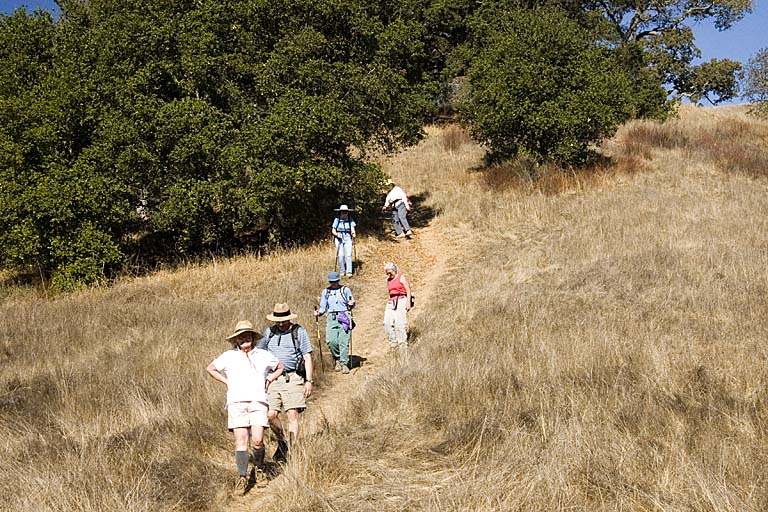 Coming down the final spine.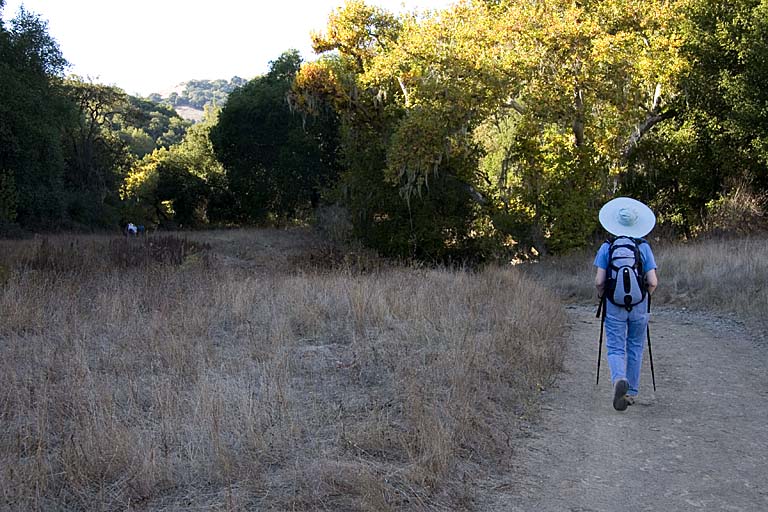 Kathy and I are alone for the last leg.